Anna Dranitsyna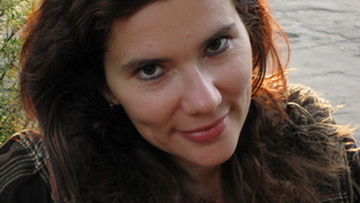 Graduated from the Institute of Cinema and Television as a film director, obtained distinction.
She worked on television as a director assistant and as a reporter. Besides Anna worked as a journalist and photographer in a lot of magazines. She has made for documentary films since 2003 as a script writer and director.
Filmography
2012- "Hair", documentary, 26 min.
XX Festival of Russian cinema "Window to Europe", Vyborg, Russia, 2012
Special prize from the newspaper "Bogatey" at the IX International TV and film festival of documentary melodrama "Saratovskiy stradaniya", Saratov, Russia, 2012
National competition - XXII International festival of short, animation and documentary films "Message to man", Saint-Petersburg, Russia, 2012
International film festival "Listapad", Minsk, Belorussia, 2011
Screening at the House of Russian culture and science, Helsinki, 2012
3rd award for "Searching poetic decision in a prosy circumstances" at documentary competition of the festival "Chelovek, poznayushiy mir", Uglich, 2012
34 Moscow International Film Festival. "Cinema of Russia" program, Moscow, 2012
VII International film festival "In the family circle", Ekaterinburg, Russia, 2012
South West International Film Festival - SWIFF, London, UK, 2012
KIN International Women's Film Festival, Armenia, 2012
Regional conference INPUT, Moscow, 2012
The best documentary at the 5th Russian documentary film festival "Sol zemli", Samara, Russia, 2012
2010 - "Time capsule"
2008 - "When I win a million"
2006 - "Game is over"
2005 - "UZVER" (user + beast)
2005 - "The X-RAY girl"
2003 - "City of angels"
Festivals and awards:
"Message to men"  Diploma of participation (Russian Federation)
"Window to Europe" Diploma of participation (Russian Federation)
"Stars of Shaken"  (Kazakhstan), Diploma of festival
"Time to live" (Russian Federation) Diploma of festival
"Ukranian Context" (Ukrainian), Price of press.
"Open cinema" (Russian Federation) , Special price of jury.
"Russia" Diploma of participation (Russian Federation)
back
Staff list