Sergey Litvyakov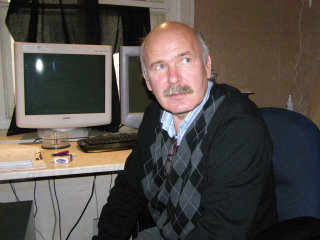 Director, sound producer, scriptwriter

Born on the 3d of August, 1957 in Leningrad.
Since 1976 until 1980 has studied in the Institute of Cinema Engineers, Leningrad.
Since 1987 - Member of the Union of Russian cinematographers.

Professional Experience
From 1973 - director, sound producer, script writer at Saint-Petersburg Documentary Film Studio. Worked with Dutch, French, German TV, «Studio - Film - Alexander» (Saint-Petersburg).

Filmography
Selected filmography:
2002 - «Wood-grouse song» director, scriptwriter
2002 - «Frescoes» sound producer, script writer
2001 - «Anthology. Studio chronicles» director, scriptwriter, sound producer
Award and Diploma at IFF «Mediawave», Hungary, 2002
2001 - «Journey into youth» director, script writer
«Golden Camera», Chicago, USA, 2001
Platinum Award, USA, 2001
2000 - «Clerk, Minister, President» sound producer
Award at IFF «Message to Man», St.Petersburg, Russia
1993 - «Pray for me, my friend» director
1993 - «Second class train…» director
Silver Award at IFF "Massage to man", St.Petersburg, Russia
1989 - «Revolt in Sobibor»  sound producer
2ND Award at Amsterdam International Film Festival
1988 - «Give us, God…» director
1988 - «Korvus kornix – in Latin "raven" sound producer
Special Awards at IFF in Germany, Spain, Italy
Grand-prix at Krakow International Film Festival, Poland
1988 - «Walk in the mountains» sound producer
Award at Berlin International Film Festival
1987 - «Summer is coming soon» sound producer
2nd Prize at Leipzig IFF
1987 – "Rock" sound producer
1986 -«Meet you in the yard» sound producer
2nd Prize at Krakow International Film Festival, Poland
1985 - «Traceries on ice» sound producer
1985 - «Russia's working day» sound producer
back
Staff list