Vladimir Khaunin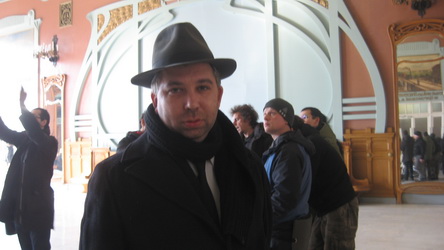 Khaunin Vladimir was born in 1968 in Leningrad.
Since he was a boy interested in art, took part in television broadcasts as an actor, studied in The Theatre of Youth Creation. Having served in the Army, he began to work at «Lenfilm» film studio in 1989. First he worked as a property-man and during the next three years he was upgraded to an executive producer. He worked as a second director, as a production manager, executive producer; collaborated with Oleg Kovalov (director and historian of the cinema), who directed such films as «The Island of the Dead», «Concert for a Rat», «Dark Night».They created 6 films together, including documentary film «Sergey Eizenshtein. Autobiography».

Vladimir Khaunin worked as an acting director, as a manager of the film unit, as a casting manager, as a second director with V. Bortko, D. Astrahan, A. Balabanov, M. Pejemskiy, A. Kott, A. Bashirov, A. Kaurismiaky, I. Zaicev, S. Selianov, K. Ernst, A. Maksimov in different German and Russian (Saint- Petersburg, Moscow) companies.
He also directed mass scenes, worked as a director of the actors and selected archive materials foк the works by Valeriy Ogorodnikov («Red Sky», «Putina»).
He has shooted more than fifteen series of a television broadcast «Line of the cinema» (production by «STV» and «Nikola-film») for «ORT» from 1997 till 1999 (the program has won a prize for the best telecast about cinema at the Festival of the archive cinema «White columns», 1999).

Vladimir Khaunin and Kristian Buhner ( Germany) work together for more than thirteen years, they created two documentary films and one feature film, one of these films «In Friendship Do Know Each Other Better» participated in «Berlinale-96».

Now Vladimir Khaunin takes part in creation of a documentary full-length film «PereSTROIKA» (about separation of a communal flat in Saint-Petersburg) being co-producer and co-author of the script.

In 1989 Vladimir Khaunin entered Saint-Petersburg Academy of the Theatre Arts, the faculty of the History and Theory of Cinema and graduated it in 1995, upheld his diploma «The second echelon of the stage Leniana and Soviet Folk Art», besides, plenty of his memoirs were dedicated to the problems of the contemporary theatre.
Author of the script «For Happiness», «Cordiality and Comfort to Betrayed with Love», «Motions and Screams», «Once to Rakitnoye»; author of the pieces «Kucy!», «Feel like-not-feel like».
Vladimir Khaunin is an active participant of the Saint-Petersburg cultural process, appears in mass-media and television broadcasts, played bit parts in a number of films.
Filmography
1996 - co-author of the script and co-director of the feature film «In Friendship Do Know Each Other Better» («Buhner film Production»)
1997 - co-author of the script and co-director of the film «Colors of the Contemporary Mass Architecture» («Buhner film Production»)
2005 - director and co-author of the script of the documentary film «Haidar, Golikov?» (Saint- Petersburg Studio of the Documentary Cinema)
2006 - co-author of the script and director of the films about the serials «Be Not Born Beautiful», «Be born beautiful. History of the Success», «Be yourself», («AMEDIA»)
2007 - director of the 4- serial documentary-feature film «Apple» («Bull's eye»), (Peterburg-5-chanal)
2012 - "A solitary world or they are singing again" (Spb documentary film studio)
XX International Festival "Festival of Festivals", Saint-Petersburg, 2012
5th Open Russian documentary film festival "Sol Zemli", Samara, 2012
Diploma for artistic reflect of national cultural traditions at the 5th Russian Documentary Film Festival in New York, 2012
Regional conference INPUT 2012 (Moscow)
South West International Film Festival, London, UK, 2012
back
Staff list