UZVER
You need FLASHPLAYER
Flash Player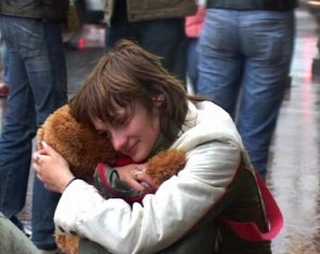 Director:
Anna Dranitsyna
Screenplay – Anna Dranitsyna
Cameramen – Stanislav Gnedin, Yaroslav Fomichev, Vitaliy Poznin
Sound – Aleksey Antonov
Film Editor – Aleksandr Dmitriev, Pavel Sutkovetsiy, Aleksey Telnov
Production manager – Alla Khristophorova
Editor – Zhanna Romanova
Producer - Vyacheslav Telnov
Synopsis
Usver (user + beast) toils in the office from dawn to dark and enjoys all the fruits of civilization. We all live according to some program, which luckily malfunctions sometimes. The one who wrote the program has not accounted to the fact that we all have different "screws lose" in our heads.
Festivals and awards:
Diploma of participation IFF "Message to men", Saint-Petersburg, Russia, 2007
Diploma of participation "Window to Europe", Vyborg, Russia
Diploma of festival "Stars of Shaken", Kazakhstan
Diploma of festival "Time to live", Russia
Award of press "Ukranian Context", Ukrainian
Special price of jury "Open cinema", Saint-Petersburg, Russia
back