Edgar Bartenev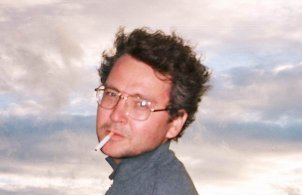 Born in 1966.
Worked as a doctor for ten years.
Studied script writing in Higher School of Cinematography, Moscow.
In 2001 graduated from Higher Courses of script writers and directors, Moscow (Alexey German and Svetlana Karmalita's workshop).

Director's interest to Finno-ugor culture appeared for the first time when he was a doctor at that area. He used to visit Nenets' families and see their everyday life and culture. Edgar Bartnev's first attempt to reflect in cinema that culture was a full-length feature film project (with the support of Cannes Festival Residence). That was the first step to realize "Yaptik-hasse".

The shooting of the film was done on the most distant settlements of Yamal Peninsula. Today approximately 35 000 Nenets are living on the small territory. 20-25 000 of the population are always wandering from one settlement to another.
Filmography
2009 - "Nyarma", 40 min, color, Dolby SR, 35 mm, with English subtitles
"KinoteatrDoc", Moscow  
Best photography at "Message to man" IFF, Saint-Petersburg, 2009
"The 31th Moscow international Film Festival", Moscow, 2009
Grand-Prix at IFF "To keep It safe", Khanty-Mansiysk, 2009
Special mention of a jury for "For the truthful and fairly reflection of a modern life" at IFF "In the palace", Bulgaria, 2009
Best film at "International film festival in Cheboksary", Russia
Best documentary at IFF Grand OFF, Warsaw, 2009
IFF in Drama, Greece, 2009
"Zolotaya boginya" for the best photography at 13th International festival of television programs and films "Zolotoy buben", Khanty-Mansiysk, Russia, 2009
Best documentary at XVIII open FF "Kinoshock", Anapa, Russia, 2009
Participation at 53th «Leipziger IFF», Germany, 2009
Grand Prix of Meetings with Mountain Film - Great Wooden Mountain that is a sculpture carved by renown Polish artist/ In touching pictures the film brings us near to the life of Russian reindeer breeders. Their annual wandering rhythm is determinated by the movements of the reindeers and the harsh conditions of their arctic homeland. Although their life is beyond imagination for us they talk about hopes and fears that we can understand thanks to the directors, Edgar Bartenev, ability to approach them. The future of their traditional life is highly endangered by building new roads, railway lines and energy tracks. The film ends with a smart smile of Gosha the 17 year old head of the family.
and
Tatra National Park Director's Award (for the film, which pictures in the best way deep and inseparable relationship of human being with the nature) at IFF Zakopane, Poland, 2010

Best photography and special prize to director at the I film festival Artcticfest, Moscow, 2010
Grand Prix of the International Mountain Film festival in Bansko (Bulgaria), 24-28 November, 2010
2006 –
"Yaptik-hasse"
, 35 mm, with English subtitles
Grand-prix for the best short documentary at the III Monterrey IFF, Mexico, 2007
"Golden boat" at IFF "Window to Europe", Vyborg, Russia, 2007
"Golden Centaur" for the best short documentary at the XVI IFF "Massage to men", Saint-Petersburg, Russia
"Golden Pigeon" for the best short documentary film at Leipzig IFF, Germany
Grand-prix at Russian Festival of Anthropological Films, Salekhard, Russia
Grand-prix of international Jury "Short-shock" for the best short documentary at the XV "Kinoshok" Open Film Festival of Baltic countries and CIS countries, Anapa, Russia
Prize for the best camera at III International TV and Cinema Documentary Film Festival "Saratov's passions", Saratov, Russia
Prize for the best camera at XVII Open Documentary Film Festival "Russia", Ekaterinburg, Russia
2003 – "Odya", documentary, color, 35 mm, 3 parts
Best Photography Award at Clermont-Ferrand IFF, 2004
2001 - "Waltz", a short fiction film, b/w, 35 mm, 26 min
Cannes Film Festival, official section, 2002
1999 – "Gryadki" ("Garden beds"), a short fiction film, color, Betacam SP, 24 min
back
Staff list