Sergey Debizhev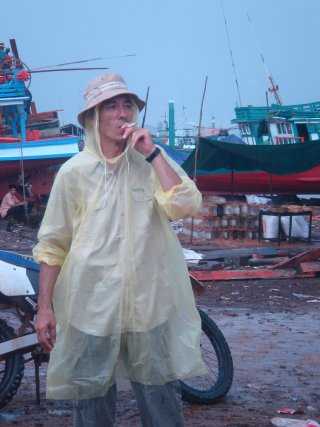 Born in August, 1st, 1957. Has received classical art and art criticism education in Tavricheskaya Art School (St.-Petersburg) and in the St.-Petersburg Art Industrial Academy named by Mukhina.

In 70s and 80s he actively was engaged in design, graphics, painting and history of art. Thaught a composition in Serov art School.

Member of the Union of artists of Russia.
Member of the Union of cinematographers.

In cinema since the year1987. Works in the field of musical and documentary cinema.
In 1991 made a feature film "Two captains-2 " with participation of all art elite of Saint-Petersburg. Being a cult among the youth, the film became extremely popular.

All of the films by Sergey Debizhev participated in many Russian and international film festivals. In 2002 Sergey Debizhev started the odious project - a cycle of films about world cultures and religions under the general name "In real time ".
Filmography
1988 - "Thirst" 10min, 35mm, musical, LSDF
1988 - "You calm me down" 10 minutes, 35mm, musical, LSDF
1988 - "The Golden dream" 40 minutes, 35mm, documentary, LSDF
1990 - "Red on red" 50 minutes, 35mm, documentary, LSDF
1990-1991 - "Two captains-2 " 70 minutes, 35mm, game, "Nicola-film"
1992 - "Two-faced Yanus" 26 minutes, video, documentary, ЛСДФ
1993 - "The Complex of irresponsibility " 30 mines, 35mm, documentary-game
1994 - "Moscow October" 4 minutes, musical
1995 - "Carthago" of 26 minutes, a television movie, Russian TV
1996 - "Love" 4 minutes, 35mm, musical
1997 - "Polar explorers", "15 women" 4 minutes, musical
1997 - "Moscow" musical 35mm
1998 - "My temple" 5 minutes, 35mm , musical
1999 - "1812" 18 minutes, 35mm, musical
2002 - "In real time" 13 minutes, video, documentary, SPbSDF
2003 - "India in real time" (Italy. Thailand. Spain). 36 minutes, video, documentary, SPbSDF
2005 - "In real time " (India. Jerusalem. Cambodia.), video, documentary, SPbSDF
2006 - "In real time " (Italy. Thailand. Spain), video, documentary, SPbSDF
back
Staff list