Sergey Karandashov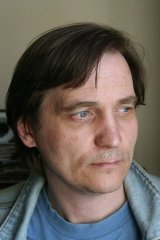 Director, Member of the Union of the cinematographers, Member of the Guild of the directors of Russia.
Was born in 1964, in Ural (Chelyabinsk). Having served in the army changed different specialties. Also worked in the theatre lightning crew and as an assistant of the director at TV.
As an actor and director worked in an amateur theatre, made short documentaries at the film studio "Motiv" (Chelyabinsk).
Since 1988 until 1991 studied at the faculty of the history of art in Russian orthodox humanitarian Institute (Saint-Petersburg).
In 1991 entered Aleksey German's director's workshop.
Since 1993 until 1997 worked on probation as a director at Aleksey German's feature film "Khrustalev, mashinu!".
Filmography
In 1999 in cooperation with Vladimir Chutko has started the TV documentary project "Back side of the Earth".
The first film of the series ("Pribezhishe". Betacam, 52 min) was finished in 2000, December. And already in March of 2001 this film got the First Prize at VIII Russian competition of the student, diploma and debut films "St/" Anna" and also national prize "Lavrovaya vetv" for the best artistic solution.
The next film of the series "Pop I prikhod" (2003) participated in many Russian and International festivals and competitions.
2002 – "Dar" ("The gift", a project "Peterburg-300")
2004 – "Strannik" ("Wanderer", feature debut)
back
Staff list