Booths
You need FLASHPLAYER
Flash Player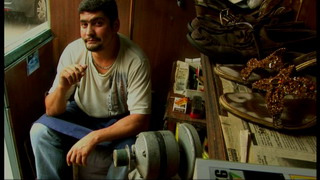 Director:
Mikhail Zheleznikov
Director & screenplay - Mikhail Zheleznikov
Director of photography - Solmaz Guseinova
Music - Denis Sladkevich
Film editor - Larisa Solovtsova
Sound Engineer - Gennady Onischenko
Editor in chief - Zhanna Romanova
Producers - Vyacheslav & Alexey Telnov
Synopsis
"When I was little I used to walk around town, and I often noticed people sitting in booths.
And I asked myself: Why are they sitting there?
Maybe they are serving out some sort of punishment.
What are they doing inside their booths?
What are they thinking about?
It's probably hot in there.
Or maybe it's cold.
Do they have home?
A family?
What kind of people are they?" - the film in ironical manner trys to answer this questions.
It's a film about people from booths of the big city.
Participation and awards:
Participation (competition) at IFF "Deboshir-film", Saint-Petersburg, 2008
Special program at IFF CAMERIMAGE, Lodz, Poland, 2008
Participation (competition) at IFF "Time to live", Rostov, Russia, 2008
Special program by studio at Bamberger IFF, Germany, 2009
Participation (competition) at IFF DaKino, Romania,  2008
Participation (competition) at IFF Punto de Vista, Spain, 2009
Participation (competition) at Clemont-Ferrand IFF, France, 2009
Participation (competition) at ZagrebDox IFF, Croatia, 2009
Participation (competition) at IFF "Go Shorts", Nijmen, Germany, 2009
Diploma in art-video nomination at festival of TV films and programs "Zolotoy buben", Hanty-Mansiysk, Russia, 2009
Diploma and prize for originality in a cinema language at  IFF "Kharkovskaya siren", Kharkov, Ukraine, 2009
Participation (competition) at "Kinoletopis", Kiev, Ukraine, 2009
Diploma and prize for the best program by the studio and audience prize at IFF at Cheboksary, Russia, 2009
Participation (competition) at IFF "Banja Luka", Serbia, 2009
Participation (competition) at IFF "Huesca", Spain, 2009
Participation (competition) at 18th IFF "Okno v Evropu", Vyborg, Russia, 2009
Second jury prize: "By visiting public spaces in his hometown, the auteur tells us his childhood memories. This essayistic approach is peppered with humoristic and ironic remarks, poetical and philosophical reflections. Thus, a personal nostalgic review is opening up to an insight in the past and present of Russian society", Cologne, Germany, 2009
back